On the West Coast, the forest fire season has started early this year due to a dry winter and spring. Areas of California that usually receive more than 10 inches of rain by early summer have only gotten about two inches so far. This has led Cal Fire to report that fire activity is up this year by 45 percent.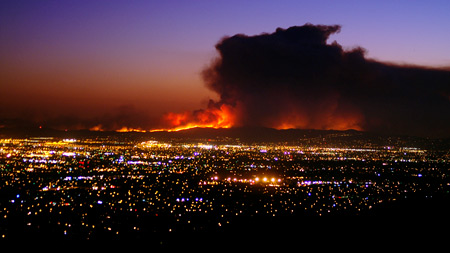 The threats of forest fire are not just domestic this year. Researchers from NASA have predicted that the Amazon will experience an increase in forest fires, too. This is due to a lack of rain — projections show this trend will continue. Researchers are tracking the water temperature of both the Atlantic and Pacific Oceans. This year, both are warmer than average, which scientists interpret to mean a lack of rain that leads to dry, flammable forests.
And this just marks the most recent in a string of years that has seen intense wildfires wreak havoc on ecosystems across the country:
In 2003 and 2007, the San Bernardino and Riverside areas of California were brutally blazed by wildfires. Many forests were completely burned to the ground. Here at American Forests, we saw an opportunity to restore a vital forest ecosystem, and since 2005, we have worked with the Mojave Desert Resource Conservation District and local volunteers to plant 376,062 trees to restore the mountain community's forests. These efforts have benefited more than 75,000 property owners.

The 2009 Station Fire, Calif. Credit: American Red Cross

In September 2011, Bastrop County, Texas, experienced its most destructive wildfire to date. The fire, caused by downed trees that fell on power lines, resulted in estimated to be $325 million damages and burned more than 30,000 acres of land. This year, American Forests has partnered with Alcoa Foundation and the local nonprofit TreeFolks to restore the urban forest of Bastrop County to coincide with other work restoring the rural forests. Approximately 54,000 trees will be planted across 35 acres.

Also in 2011, New Mexico experienced its worst wildfire at the time, when a blaze begun in Santa Fe National Forest and went on to burn more than 150,000 acres. A 2013 Global ReLeaf project is helping restore 400 acres of New Mexico's Valles Caldera National Preserve that were damaged in the 2011 fire.
Unfortunately, these damaging wildfires — as opposed to low-intensity fires needed for many species to reproduce — are likely to become more common as experts predict that climate change will exasperate the intensity of forest fires in the future. Increased water temperatures often lead to a decrease in participation, and if seasons change, wildfire season may start earlier and end later. It appears that intense wildfires are on the horizon.