Since it seems the media only highlights the forest fires that take place in the lower 48 states, many people would be surprised to know that millions of acres of forestland is burned in Alaska each year. Yes, you read correctly, Alaska. The National Interagency Fire Center reports that Alaskan fires have burned 1,043,908 acres so far this year. In comparison, this is 10 times the amount of acres that have burned in California this year. In fact, Alaska has burned more in the last few years than it has in the past 10,000 years, according to a new study published in the Proceedings of the National Academy of Sciences.
In the study, researchers analyzed charcoal samples found in 14 lakes in the Yukon Flats of Alaska to study the history of fire in the boreal forest. They discovered that over the last 10,000 years, there have been periods of increased fire activity in the region, most notably during two distinct periods:
Between 6,000 and 3,000 years ago, which the researchers hypothesize was due to an increase in the flammable black spruce.
And 1,000 years ago during a period referred to as the Medieval Climate Anomaly, which was a warm, dry period similar to today's climate.
Both of these periods pale in comparison, though, to the fire activity of the last few decades. According to the report, the Yukon Flats area experienced an average of 10 fires per 1,000 years over the last 3,000 years. Over the last 50 years, that number has risen to 20 fires every 1,000 years.
What does this level of fire do to the boreal forest? The forest changes, as less flammable trees survive and reproduce. Periods of increased fire activity mean that the coniferous white and black spruce are replaced by deciduous trees, such as aspen and birch trees. This process can take a long time, which is why we see it as beneficial to help out nature by planting trees that will survive forest fires.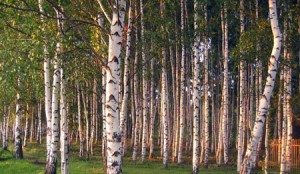 A complicating factor of increased fire activity in boreal forests is carbon. Boreal forests make up 10 percent of the Earth's surface and contain half of the world's underground soil carbon, which is released by forest fires. This contributes to a positive feedback loop in which forests burn and cause temperatures to rise, which could lead to more forest fires.
The researchers behind the Yukon Flats study are hopeful, though, that history will repeat itself in Alaska, with deciduous trees replacing coniferous ones and thus stabilizing wildfire rates in the region. Only time will tell if this comes to pass.