A decade later, a Global ReLeaf forest is thriving.
Story & photos by Doug Alderson
As I descended a sandy hill of open piney woods, two deer crashed into the thick hardwood forest before me, almost seeming to escort me to Econfina Creek.
I heard the swift Florida Panhandle stream before I saw it. Numerous rapids, log strainers and hairpin turns mark this upper section, making it louder than most small Florida rivers and streams. For a canoeist or kayaker, the unique Econfina, especially the upper portion, is a roller-coaster ride suitable only for experienced paddlers. The creek races through the clay, sandhill and limestone canyons it has carved over time, but can't seem to escape. But I came to hike part of the cross-state Florida National Scenic Trail that hugs the tall banks. On shore there was a calmer feeling, one of enchantment.
Walking along the copper-colored stream, I was awed by giant beech and magnolia trees. There were also spruce pine, red oak and white oak, hickory, and the twisted reddish trunks of sparkleberry.
Pausing frequently, I was fascinated by numerous swirls and eddies created by the current. The river's sweet song alternately faded or grew louder depending on the shape and width of a particular section. The banks became higher and steeper, often festooned with green moss and cascades of ferns. Tiny feeder streams also made music as they dropped into the main river channel. Some formed exquisite narrow waterfalls.
I passed more giant beech trees; carved initials were refreshingly absent. It was as wild and remote a hiking trail as one can find in Florida, and I was heartened by the fact that most of the surrounding land will remain undeveloped as part of the Northwest Florida Water Management District's 41,000-acre Econfina Creek Water Management Area (WMA).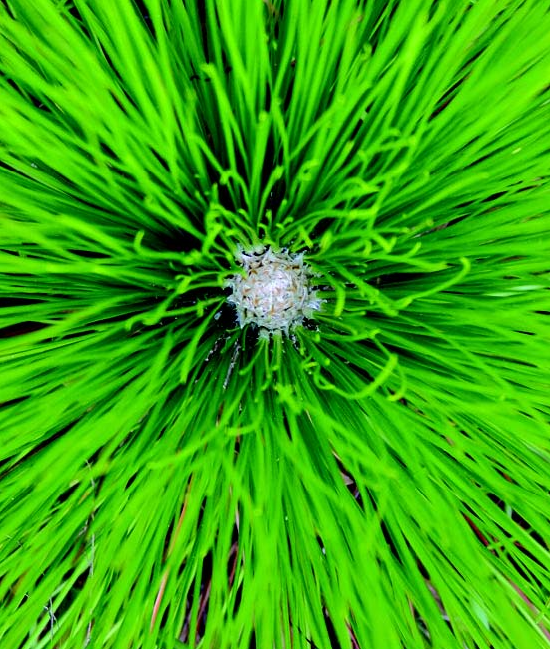 Driving the project's strong preservation and conservation measures is the fact that the Econfina provides the lion's share of water to Deer Point Lake Reservoir, the primary drinking-water source for the Gulf Coast town of Panama City and surrounding environs. It is also an important freshwater source for St. Andrew Bay, a vital nursery for marine life.
But it wasn't enough to simply protect the Econfina Creek corridor. Hydrologic testing found that almost 29,000 acres of sandhills west of the creek make up a major aquifer recharge area for several high-magnitude springs that feed this vibrant watercourse.
Fortunately, the Water Management District (WMD) was able to purchase most of this land from Rosewood Timber Company (Hunt Petroleum/Prosper Energy) of Houston for a little under $802 an acre in the 1990s.
George Fisher, retired senior planner for the WMD, was instrumental in the purchase. "It was a good price," he said, "but our future cost to restore the uplands will be pretty heavy because they had been through a couple of timber cycles of sand pines; native vegetation was pretty much destroyed. Trying to reestablish it will really be a job."
Enter American Forests and the Global ReLeaf program. The WMD received funding to plant 160,000 longleaf pine seedlings in 1996 and 195,000 seedlings in 1998 in an effort to restore the uplands. More longleaf pines were planted in subsequent years. This species of tree was once dominant in these and other uplands throughout the Southeast, covering nearly 90 million acres. However, by most estimates a scant three percent of this habitat type remains due to logging, development, farming, fire suppression, and conversion to faster-growing pines for paper production. The longleaf's dense yellow wood was prized for its ability to resist termites in the era before pressure-treated lumber. Only about 10,000 acres—featuring impressive pines 300 to 400 years old–are considered old-growth.
While most of today's longleaf forests are found on public lands, having grown back from forests cut in the early 20th century, private landowners are taking a new look at the longleaf pine's drought-resistant qualities. A quiet longleaf revival is beginning to take root. Both public and private land managers throughout the Southeast are planting so many longleaf seedlings that nurseries are having trouble keeping up with demand.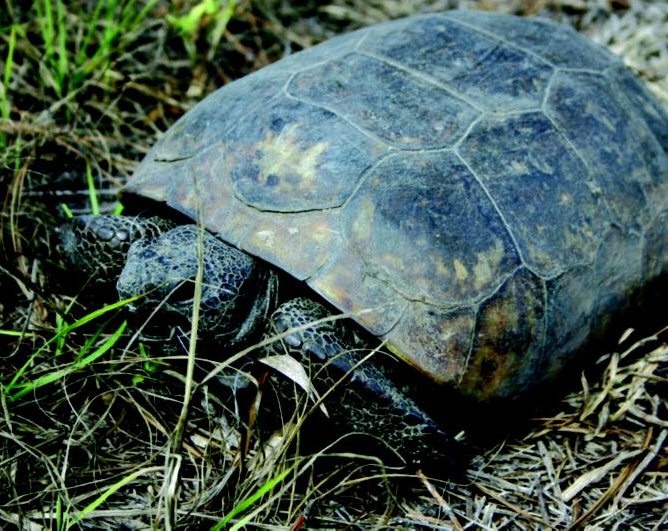 At the Econfina Creek WMA, seedling longleaf pines have now climbed out of the low-lying grass stage and are beginning to look like a young forest. Thousands of clumps of native wiregrass, a tall bunchgrass that resembles baling wire, have also been planted. Wiregrass helps to spread fire more efficiently, an important component of the longleaf ecosystem because prescribed fires must now mimic natural fires that once swept through the uplands every one to three years. These slow creeping fires help to keep invasive hardwoods in check, and also promote a lush understory that is necessary for the survival of several protected animal species. One of them, the gopher tortoise, is considered a keystone species since its deep burrows can provide homes for numerous species of frogs, mice, snakes and insects.
When fire approaches, gopher tortoises and similar animals race down their protective burrows. Other animals outrun the flames, climb high into the canopy, or simply fly away. Very few animals are caught in these slow-moving fires. The smell of smoke triggers a long-ingrained sense of alarm.
Soon after a fire, herbivores such as deer, rabbits and gopher tortoises all gorge themselves on succulent new plant growth, and so their predators benefit as well. The plants attract insects and produce seeds and blossoms, and these, in turn, draw an array of bird life. One feeds the other.
William O. "Bill" Cleckley, Director of the Division of Land Management and Acquisition for the WMD, stated that in addition to benefiting wildlife, "The reintroduction of growing-season prescribed fires to the restored landscape will induce flowering and seed production of remnant native groundcover plant species, which will significantly increase the biodiversity of the longleaf pine and wiregrass habitat." According to Cleckley, groundcover plant species richness could reachmore than 150 species per square hectare (about 2.5 acres), and at least 18 rare or endangered plant species now inhabit the upland sandhills of Econfina.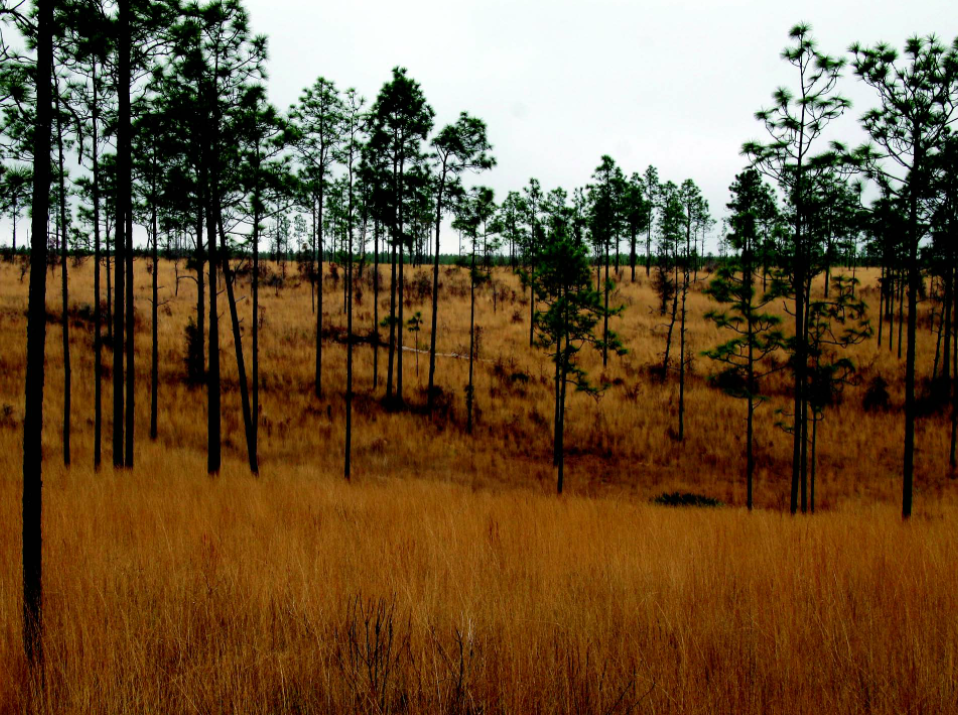 Longleaf pines are the most fire-tolerant tree in the South, so frequent fires give them a competitive advantage over other trees. Their needles contain volatile resins that will burn even when damp. Longleafs can thrive in dry sandy environments since they sink a long taproot into the ground. Flames usually burn only the outer scales of their paperlike bark, while the more fragile and vital inner layers are left intact. Even foot-tall longleaf pines, still in what is called the "grass stage" because they resemble large clumps of grass, can usually withstand a fire. Burning green needles create a type of moisture shield for the plant's terminal bud. Generally only a very hot fire, one fueled by drought and a heavy buildup of fallen leaves and pine needles, will kill a young longleaf pine.
To gain a better understanding of what the recovering uplands of Econfina will one day look like, I took a stroll on the Florida Trail just west of the river. I first walked through a thick sand-pine forest that had been planted by the previous owner. Then, through the trees, I could see what appeared to be golden prairie grass. Moving closer, I realized the "prairie" was a rolling hillside of feathery wiregrass in seed, the result of prescribed burning during the previous summer. Wiregrass in seed can be three times taller than wiregrass that is not in seed. Scattered throughout the area were tall longleaf pines about a half-century in age, marking one of the few remnant maturing longleaf tracts that the district was able to purchase. I was viewing the future of thousands of acres of young longleaf forest on the Econfina Creek Water Management Area. The recovering tracts will one day resemble a "prairie with trees"—a description given by early pioneers who drove wagons through the vast, parklike expanses of longleaf forest.
Another unique environment found at Econfina is steephead ravines. Steepheads are like three-sided box canyons up to 100 feet deep that have small seepage springs and clear streams at the bottom. Steepheads erode from the bottom up as groundwater seeps through porous sand and leaks from an exposed slope. The sand above collapses and is carried away by the stream, so steepheads are continually cutting into the sandhill uplands. Since these shady wet environments are generally 10 to 15 degrees cooler than the dry uplands, steepheads harbor a unique array of plants and animals, including rare salamanders that often reside beneath mossy rocks and logs.
Besides obvious ecological, recreational, and water supply/recharge values, the Econfina Creek lands are valuable from a historical perspective. For millennia the area was inhabited by early Native Americans, from mastodon-hunting Paleo Indians to Muskogee Creek bands that moved in from Alabama and Georgia in the 18th and 19th centuries. Some native descendants remained in the area and have formed the Muskogee Nation of Florida, headquartered in a vintage one-room schoolhouse in the tiny town of Bruce, about 20 miles west of Econfina Creek. The group, which has 1,100 members, has been earnestly seeking federal recognition since 1978.
Early white settlers established a wagon trail through the hilly land along the creek country that one early observer called the "mountains of Florida." Perhaps the best known early pioneer was William Gainer. He settled among a group of large emerald springs that feed the river near present-day Highway 20; the springs bear his name.
Gainer had been a scout and engineer for Andrew Jackson during his invasion of west Florida in 1818, and liked what he saw during the incursion. "This is a beautiful and productive place with great potential," he wrote to relatives in North Carolina soon after settling. "Tell our relatives and any close friends about it, but no one else." Gainer established a thriving plantation along the river, raising cotton, cattle and other farm products.
While canoeing the calmer middle portion of the river one summer, I ran into Martha Barnes, a graying matriarch who had pioneer ancestors buried in a nearby cemetery. She was visiting one of the river's 11 clear azure springs. "I've been coming here since I was a kid," she said. "We used to play Tarzan and swing off the vines. There was no Highway 20 then; we used to come up on dirt roads. I bring my grandkids here now. I love the fact that it will remain wild and undeveloped."
And as the surrounding longleaf pines grow taller and fill the recovering forests, the Econfina CreekWater Management Area will only get better with time.
Doug Alderson is the author of four books and numerous magazine articles. To learn more about his work, log onto www.dougalderson.net.
This article was published in the Spring 2009 issue of American Forests magazine.