WHEN EBONI HALL FIRST ENTERED COLLEGE, she thought for sure she was going to become a sports therapist. She wanted to learn kinesiology, the study of body movement and muscles. It was a sensible choice, something familiar, and a far cry from her ultimate path in urban forestry.
She'd grown up in Baton Rouge, La., entrenched in a love for natural areas, her childhood full of making mud pies, climbing trees and reading books outside. Despite that connection to nature, she'd never really thought about urban forestry as a concept, let alone a potential career path. "I remember thinking, urban forestry? That sounds like some- thing for tree huggers," she says.
It was during a summer program called BAYOU, Beginning Agricultural Youth Opportunities Unlimited, at Southern University and A&M College in Baton Rouge, that Hall's world changed. Hall is young, Black and a woman, quite different from the typical description of a forester, a field long dominated by white men. "People of color don't have a reflection of themselves in this field, and they get discouraged," says Hall. "Maybe if people see I'm able to do it, they'll think they can."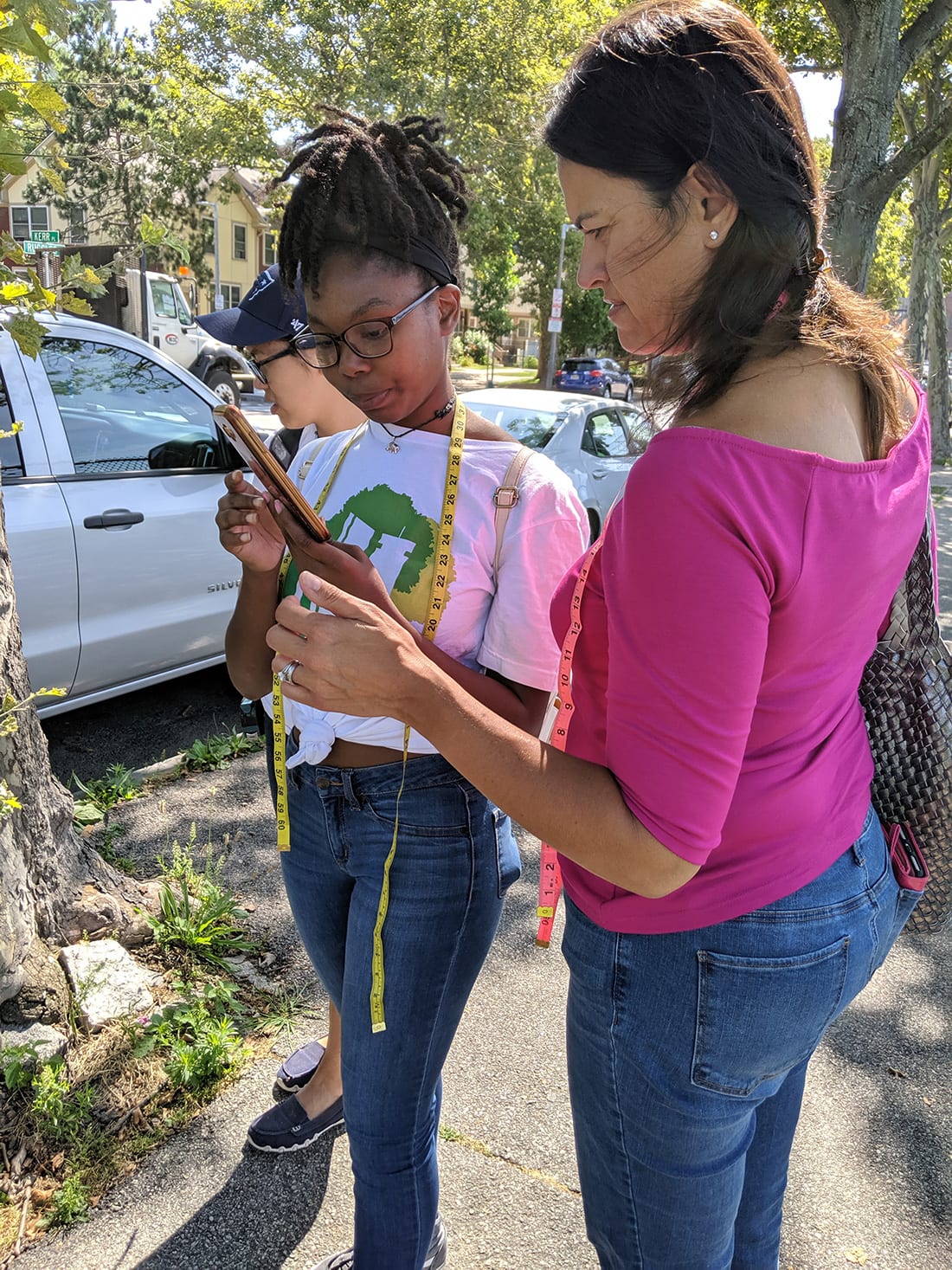 The BAYOU program introduced Hall to an array of environmental science disciplines and job opportunities that redefined urban forestry for her. She went on to study the discipline at Southern, the only four-year university that offers a bachelor's degree in urban forestry. Eventually, she earned her Ph.D. and now works as the senior manager of urban forestry education at American Forests. Hall has made it her life's mission to provide other young people with the inspiration she found through BAYOU. In doing so, she is shaping one of the most important roles for building social and environmental equity and combating climate change.
CREATING THE NEXT GENERATION OF URBAN FORESTERS
People who work in urban forestry are addressing climate change, as well as social and environmental equity. City trees help absorb carbon from the atmosphere and make people's lives better by providing shade, filtering the air, lifting moods and more. Trees also create jobs. But not everyone benefits equally from trees, largely because socioeconomically disadvantaged communities historically have lacked trees. A blossoming movement toward Tree Equity — which, simply put, is about ensuring every city neighborhood has enough trees so that every person benefits from them — is fueling the demand for more urban foresters. In fact, jobs for people who can plant, prune and maintain trees in cities is expected to grow 10% by 2028.
Attracting young people to the field is essential to growing that workforce. Hall and others like her are taking on the challenge, educating youth about urban forestry and related fields as a career and helping create clear pathways for professional advancement. The first step is making sure these future foresters understand that city trees are more than something nice to look at.
TREES AS CRITICAL URBAN INFRASTRUCTURE
In America's cities, trees help the environment, but they also play a vital role in fulfilling our basic needs. That is particularly true during the COVID-19 pandemic. "Green spaces are a peaceful place to go to find refuge. When you don't have access to them, you often are surrounded by unhealthy environmental conditions, and it has impacts on mental health," says Suleima Mednick-Coles, one of Hall's mentees and a student in the Black Scholars program at the University of San Francisco.
Making the connection between the importance of caring for trees and how they benefit day-to-day life is critical to growing interest in urban forestry, says Sarah Anderson, director of Career Pathways at American Forests. "Communities with low tree canopy cover tend to have higher rates of unemployment, and if you don't have access to trees, you can't make money caring for them."
Job opportunities to plant and care for trees are expected to rise, thanks in part to the important role cities will play in the global trillion trees movement. In order to meet that need, American Forests has set a goal that by 2030 at least 100,000 people, particularly those from socioeconomically disadvantaged communities, will enter jobs in forestry. "I think it's something that's really a no-brainer to invest in," Anderson says. "And it's a well-paying one, with average entry-level tree workers earning about $20 an hour, roughly $40,000 per year."
PAVING THE WAY
One obstacle to building an urban forestry workforce is that many young people don't know how to access the field, or that it even exists. American Forests is working with Southern University and groups like Speak for the Trees, Boston to raise awareness of, and build bridges to, the field.
American Forests has developed two guides to help individuals map their journeys to urban forestry careers: the Career Pathways Exploration Guide and the Career Pathways Action Guide. Geared toward people who could benefit most from joining the field, these guides spotlight educational pathways and entry-level job training programs that train and place individuals who face barriers to employment so that they can enter the field. There are pilot projects in six cities: Minneapolis, Milwaukee, Detroit, Chicago, Providence, R.I., and Syracuse, N.Y.
The local programs also try to provide additional services, such as transportation and childcare, both significant barriers to job entry in communities where people are struggling financially. "It's all about meeting people where they're at, physically, emotionally, age-wise," says David Meshoulam, executive director of Speak for the Trees, Boston.
Job shadowing, paid apprenticeship and pre- apprenticeship programs can remove barriers to finding viable careers. "Many youth live in the now and go into survival mode in order to provide for their families," says Hall. "They can't afford to stop working to improve a skill set." That's where partner- ships, programs, resources and expertise provided by American Forests come into play.
A FIELD WITH MANY DISCIPLINES
One exciting outlook in the field of urban forestry is how expansive it is. Traditionally, urban forestry has been synonymous with arboriculture and tree maintenance, Hall says. "But urban forestry encompasses so much more than trees alone."
An array of disciplines have jobs that fall under the urban forestry umbrella: environmental law, hydrology, psychology, soil science, urban planning and public health, to name a few.
Currently, Southern University and A&M College is the only university in the United States that offers a designated degree in urban forestry. Students elsewhere often have to create their own paths. For example, at the University of San Fran- cisco, Mednick-Coles is cobbling together her interests as an amalgamation of multiple majors and minors that encompasses international studies, sustainable development and environmental justice and African-American studies. To entice and prepare students, Hall hopes more colleges and universities will begin offering urban forestry programs, making more connections to other disciplines and utilizing an interdisciplinary urban forestry curriculum she developed.
Today, Hall spends her days split between research, increasing urban forestry education at institutions, assisting youth in navigating their urban forestry career path and mentoring students, all while working to achieve Tree Equity.
"Don't wait too long to take that exam," Hall teases, while on a recent Zoom call with Jordan Davis. Davis is about to graduate with a degree in urban forestry from Southern University. He entered college bent on studying engineering when he discovered the BAYOU program and a new future. The exam Hall is referring to is the
International Society of Arboriculture Credential, a requirement to become a certified arborist. Davis laughs good-naturedly. "I won't. I won't," he says.
He's thinking of returning to his hometown of Jackson, La., to provide urban forestry community outreach. A lot of students get interested in jobs they learn about in high school, Davis says. He wants urban forestry to be one of them. He's thinking of someday launching his own arboriculture business. His family even started a company, Carpet Cuts, LLC, a lawn care business that incorporates tree care. His face beams with pure optimism.
Morgan Heim is a conservation journalist based in Oregon's forest country.