How climate change is affecting the sugar maples of New England
RED — throughout history humans have been attracted to and fascinated by the color. I, too, feel that draw as I move quickly through the White Mountain National Forest in New Hampshire on a crisp autumn day. My senses are heightened and aroused in so many ways when I hike deep within any New England hardwood forest. From the earthy aroma of moss and decaying leaves to the gurgle of a chilly rushing stream, to the sound of leaves gently hitting the soft forest floor, to the main attraction: eye-popping oranges, yellows and fire-truck reds creating 360-degree visual fireworks.
Much of this display comes courtesy of the sugar maple (acer saccharum). It's responsible for the brightest colors of our New England fall, the soul-grabbing reds, oranges and yellows that put so many forest lovers, hikers and casual passers-by into a place of contentment and even bliss.
But the sugar maple is also, many scientists believe, the canary in the coal mine when it comes to climate change.
"Sugar maple's an iconic species that gives us syrup, lumber, acts as an important carbon sink and also helps define our fall colors," says syrup producer Tim Gaudreau of Willow Brook Farm in Barnstead, N.H. "There's no question this would be a different place without it."
A key northern hardwood species, the sugar maple is vital ecologically, economically and culturally. Sugar maples also require very high soil nutrients and a narrow range of soil moisture, making the tree one of the region's most environmentally sensitive species. Each year, forests and wood products offset 15 percent of U.S. CO2 emissions from burning fossil fuels. Sugar maples play an important role in the long-term storage of carbon as trees can live 300 or 400 years.
In short, the sugar maple is a crucial player in New England's cultural identity and economic engine, adding billions to regional economies.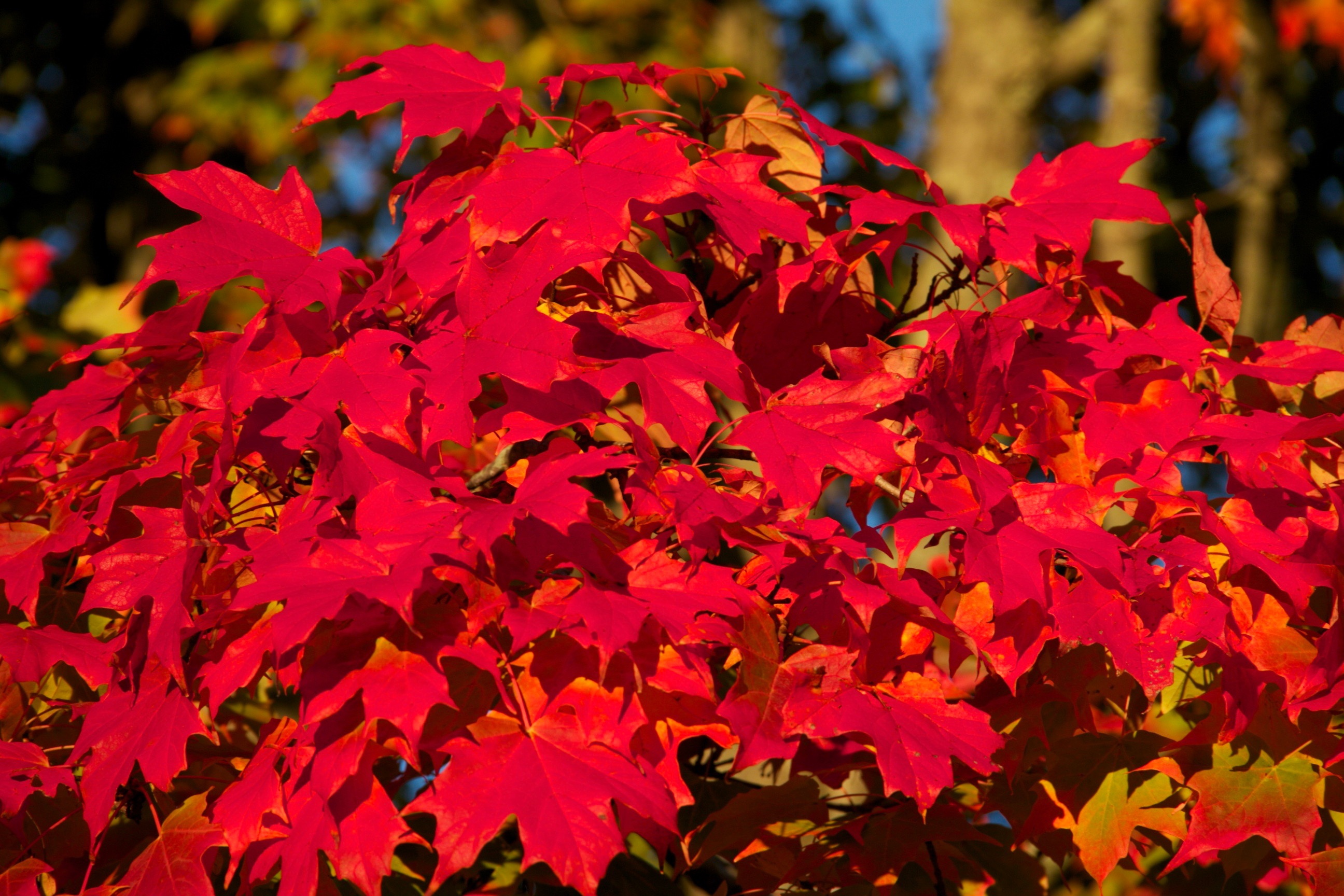 Our iconic sugar maple is under attack.
Stressed to new levels, in part due to a warming climate and wildly erratic weather patterns, sugar maples may be experiencing regeneration difficulty, dulling foliage displays and sap that runs less sweet, significantly darker and for a shorter period of time. Sap flow hangs on a narrow temperature equation of a specialized climate of freezing nights and mild days. Scientists say trees are uniquely vulnerable in early spring and fall. If the trees go through these vulnerable times over and over again, exposed to increasingly extreme or hot weather, can they survive?
A long-term study, which began in the summer of 2019, set up four plots in the White Mountain National Forest to determine why the saplings are struggling. Other scientists are studying and com- paring satellite images past and present and finding reductions in the red foliage usually delivered by the sugar maple. Still others are studying the effects of a reduction in the snowpack expected in so many of New England's most prolific sugar maple stands — a snowpack that botanists are learning is essential to protecting the delicate and vulnerable roots of sugar maple saplings. And, many researchers are looking to the chemistry of the sugar maple sap, an area where the most change is seen — providing perhaps the biggest indicator that something isn't right.
Seventy years ago, the U.S. produced 80 percent of the world's syrup while Canada produced 20 percent, today this figure has swapped. A warming climate increasingly makes the province of Quebec and its more northern latitudes perfect for sugar maple health and, thus, a more ideal location for maple syrup production. Additionally, the sugar content of sap from sugar maples is down. And, the amount of sugar trapped in the leaves is connected to the strength of fall color.
"Healthy trees continue to make sugar into the fall, and may have stronger sap flows in the spring," says Dr. Martha Carlson, author of "Farwell Sugar Maples," science educator, and sugarer at Range View Farm in Sandwich, N.H. "An unstressed tree will have longer lived leaves and nice color in the foliage season. But, the biggest concern to me is that the sugar maple is a keystone species — if it goes, dozens of other species will have already extirpated," adds Carlson, whose family has sugared in the state for the past 70 years.
Some scientists think a stressed sugar maple may produce less sugar and a sap that results in darker syrup.
"Warmer winters and earlier springs are affecting the chemistry of sap," says Dr. Barry Rock, a botanist and professor of natural resources at the University of New Hampshire (UNH) who has studied sugar maples for 30 years. "In 1950, New England sap boasted 3 percent sugar, today it's two. That means some tappers must draw twice the amount of sap to produce the same amount of syrup; 40 or 50 gallons of sap for one gallon of syrup, which officially must have 66.9 percent sugar."
According to Dr. Joshua Rapp, associate at Harvard Forest and scientist for Mass Audubon, climate change's impact on tree migration is changing the landscape of syrup tapping. Dr. Rapp and Dr. David Lutz of Dartmouth College worked together on a six-year study on how climate affects sap at six locations throughout the tree's range. The results showed syrup production moving northward in the next century and dropping by half in New England.
"Rising temperatures have, and will continue to, drastically change the tapping season and reduce the quality of the sap," says Rapp.
Where a tree grows is determined by environment — that is to say, soil, water, topography and climate. Dr. Rapp posits that paleoecologists know trees' ranges changed as temperatures rose; in the last ice age, species migrated north over thousands of years as the climate warmed.
"The changes that have happened over the last 100 years may pale in comparison to the changes our trees might experience over the next century," says Rapp. "Our study showed a 28-36 percent sap sugar reduction before the end of the century. Trees can, and have, adapted and evolved, but it takes many generations.
Human-induced climate change may be happening so fast that the sensitive sugar maple won't have the time to adapt. But, I also want to stress that, while it's true evolution does occur over many generations, trees are able to withstand a wide range of climate conditions. I'm less confident maple syrup will be a viable enterprise."
The New England Regional Climate Assessment predicts snowy New Hampshire, a crucial sugar maple habitat, could have the mild climate of Richmond, Va., by 2070, under a "business-as-usual" emissions scenario.
So, can sugar maples thrive in Virginia?
In the 1790s then Secretary of State Thomas Jefferson, an avid botanist, began what is known as the "Maple Sugar Scheme," a campaign against imported, British syrup made with West Indies cane sugar.
"Make your own sugar and send not to the Indies for it," warned an 1803 Farmer's Almanac. Jefferson, with the help of then Representative from Va. James Madison, planted almost 100 choice Adirondack sugar maple saplings at Monticello to kick start a made-in-the-USA maple syrup industry. But, it was a failed experiment and only a few survived. That's because sugar maples do not thrive in the Virginia climate.
Some saplings are already struggling; the Sugar Maple Regeneration Project in New Hampshire, a collaboration of the Hubbard Brook Research Foundation, Cornell University and the Society for the Protection of New Hampshire Forests, wants to know why.
Lead Cornell scientist, Dr. Natalie Cleavitt is working with a large group of citizen scientist volunteers and says the list of culprits is long, from increasing soil acidification, insect and fungal stress, intense competition from American beech and a warming climate.
"The saplings are affected by a shrinking snow- pack that insulates delicate and vulnerable roots," says Dr. Cleavitt. "Both the saplings and the bigger trees are also affected by acid rain, which knocks the calcium and other nutrients out of the soil."
A warming climate can also generate more and different pests and funguses, which with milder winters, don't die off like they used to.
Dr. Pamela Templer is a professor in the Department of Biology at Boston University and the senior author of a study conducted on the insulating properties of the snowpack on sugar maple sapling roots. "If snowpack keeps shrinking and temperatures keep rising, the sugar maples will not grow as quickly," says Dr. Templer.
In Dr. Templer's five-year study, researchers shoveled off the snow to mimic climate predictions of reduced snowfall; the results were devastating. Without the insulating snowpack, the sugar maple's tiny, delicate roots froze and many died. Sixty-five percent of northeast sugar maple stands depend on the approximate 8-inch-deep winter snow blanket.
"We found that without the snowpack the trees grow 40 percent slower," says Dr. Templer.
By the end of the century, it is predicted up to 95 percent of sugar maple forests across the northeast could lose the insulating snowpack of winter.
The sugar maple wants the predictable climate it's evolved for, says Dr. Rock of UNH. Dr. Rock uses sugar maple "wood cookies" (thin slices of a tree about an inch thick) to research on a cellular level, what's happening year to year in a tree's growth and development. Rock and his researchers also use "mini cores" of sugar maples which are burned in the lab, their fumes analyzed, to provide an in-depth look at the trees' chemistry and how it's changing.
Together with Dr. Michael Routhier, director of UNH's Geographic Systems Lab, Rock is performing an exhaustive analysis and comparison of satellite photos of swaths of fall sugar maple-dominated foliage stands going back to 1972. What they're finding does not bode well for the sugar maple in the Northeast or the more than a billion dollars annual "leaf-peeping" autumn tourism economy that the brilliant foliage generates.
"Today's autumn satellite images, compared with those of the '80s, show a consistent pattern of dulling, particularly of the reds coming from the sugar maple," says Dr. Rock. He adds that it's nuanced and difficult for the naked eye to see the color differentials in the images. But, when he charts the red spectral color bands on a graph, "you definitely see the intensity of the reds decreasing."
At Hunter Farm in New Hampshire, the records kept on the wall of the sugarhouse date back eight generations. Neighbor tapper Dr. Carlson has read the climate assessments that say her Sugar bush (forest stand of sugar maples) could be at least 2 degrees C warmer by 2035. She worries about the impact of this on the health of her trees. New England benefits from at least half a million jobs tied to the sugar maple as it relates to tourism, outdoor recreation, agriculture and lumber.
But, what is the true value of the sugar maple on regional culture?
Every scientist I talked to was certain sugar maples are resilient, but many wonder: what exactly is the breaking point of the sugar maple?
Both Dr. Carlson and Dr. Rock are adamant that the final jury is not out yet on how, or if, climate change will affect the sugar maple in the long-run. Much more long-term research is needed for any definitive conclusions. They stress that the science is inconclusive and ongoing. And, most importantly, they believe strongly in the resilience and adaptability of these wonderful trees.
Dr. Carlson points to what she calls the "grandmother tree" on her property that she believes sprouted before 1695.
"It's weathered fires, ice storms, the American Revolution, pests and predators of all sorts, and a giant heart rot cavity on the south side of the tree big enough for kids to play in, says Carlson."
She has only three "grandmother" sugar maples like this one on her property. In the '80s she had eight. But she's quick to point out that these grandmother trees are dying naturally and is hopeful when it comes to the future of the sugar maple in the Northeast.
"These trees take 200 years to grow to maturity and another 200 years to die, all the while slowly feeding the hillside the stored sugar in its wood, roots and branches, releasing the nutrients into the forest captured from hundreds of years of sunlight."
"That," she says, "is resilience."
Sarah Brown is a journalist who has worked for CNN New York, NBC Moscow, APTV Moscow and National Geographic online. She founded the Green Alliance in 2009, an organization that works with business and consumers on sustainability. She also works as a fine gardener and environmental action consultant in Maine and NH. She can be reached at sarah@greenalliance.biz.