By Andrew Bell, Policy Intern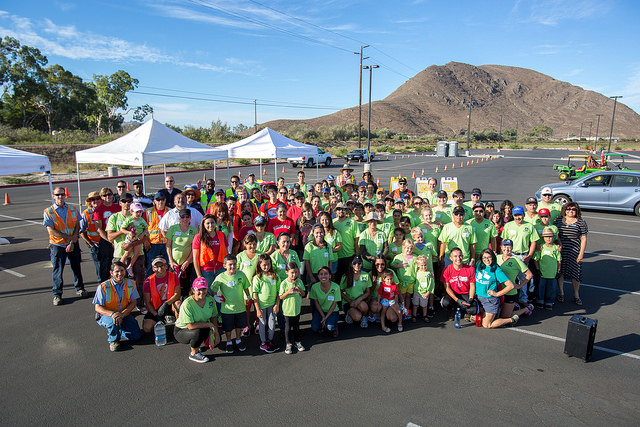 In The Partnership for Trees' fourth year, American Forests and Alcoa Foundation teamed up to plant more than 220,000 trees and restore nearly 900 acres. Twenty-four projects across the world were financially secured and given a push towards achieving their goals. All the while, we drew ever nearer to the millionth tree planted since 2011. Of course, just as important as getting trees in the ground is the commitment to engaging communities and the next generation of forest stewards. Two of the projects that embodied that commitment took the partnership to a college campus in California and an industrial plant in Russia.
On the domestic front, California State University's Channel Islands provided a unique opportunity. The Camarillo campus is home to thousands of hardworking students, yet possessed few trees and green places to work. A master plan to beautify the campus was drawn up, and The Partnership for Trees prepared to do some heavy-lifting.
The site was prepared, the holes were dug and the trees were in prime position. The scene was set for the tour de force that followed: 123 university students, staff and Alcoa employees planted 506 trees across 22 acres of the campus in just three hours. The student volunteers had already been trained to act as "team leaders," while university and Alcoa staff provided quality control. The effort was so swift and efficient that Maria Calderas — Alcoa Fastening Systems' Human Resources Manager — described the event as the most they had ever accomplished in a single volunteer project of that nature.
Together, the alliance brought beauty to the campus, provided habitat for monarch butterflies, mitigated the amplified city heat, cultivated a green backdrop for educational activity and bolstered the campus' future tree coverage by up to 60%. And, even when it came time to admire the day and all of its accomplishments through the rearview mirror, Alcoa Foundation found a way to bring even more to the table (quite literally). As a surprise, they provided lunch for the entire group of volunteers at the end of the planting, an expense that CSU Channel Islands had planned on covering through their budget. This allowed the university to take the excess funds and plant 12 more trees. Thanks to Alcoa Foundation's generosity, the day's lasting impact amplified even further.
On the other side of the world, the "Business to Forest" tree planting project devised by Russian Carbon Fund provided a contrasting example of what's in play with even the most extensive planning. In the wake of a disastrous 2010 wildfire that burned nearly 250,000 acres in the Moscow region of Russia, the need became clear to restore boreal forest belts in hopes of curbing desertification and the depletion of pastures and fruitful soils. This is why the Russian Carbon Fund reached out to American Forests and Alcoa Foundation to plant 20,000 Scots pines over 12 acres of land near an Alcoa plant that was ravaged by wildfire. But, the Administration of Belaya Kalitva expressed interest in planting 350 grown trees directly in town, and Alcoa Russia found good reason to honor that request.
So, on October 11th, The Partnership for Trees eagerly joined 1,300 Belaya Kalitva citizens in celebrating their "Tree Planting Day" holiday, a day where 3,000 trees and bushes were planted alongside the 350 provided by American Forests and Alcoa Foundation. Two weeks later, the partnership undertook a tree planting event with 150 Alcoa employees and local orphans that resulted in the planting of more than 11,000 Scots pines. Encompassing both events were educational opportunities for parents, teachers and grade school students as well as students in masters programs. With topics ranging from planting practices to sustainable urban forestry and its products, there was valuable knowledge to be gained for all. Thanks to this multifaceted approach, Belaya Kalitva has seen a proliferation in non-timber forest products (NTFP) and a growth in local jobs providing care for these trees for generations to come. The entire experience united business, government and society in building a socially and ecologically stronger community.